Woohoo!!  It's here – the new 2019-2020 Annual catalog!
It's packed full of amazing new products and projects!
For today's project, I CASEd this magnificent framed art piece straight from the catalog.  Using the new Magnolia Lane suite, making this was a snap!  Do you know the catalog is chalk full of projects and creative solutions?  It is a great resource to have in your hands.
The Good Morning Magnolia stamp set and coordinating Magnolia Memory dies are so beautiful!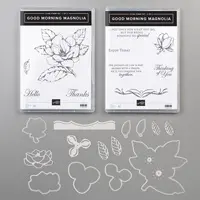 To create the flowers, I followed the instructions from the video below which Stampin' Up! created, to show how you can use the Magnolia Memory dies.  They take just a little time, but are quite easy to make. 
And so worth it!  They are amazing in person!
There is so much dimension to this project!  It makes a lovely gift or art piece for your home or office.
To create this project:
place a piece of Magnolia Lane designer paper of your choice in a frame

create multiple flowers following the instructions in the Stampin' Up! video

use a hot glue gun to adhere the flowers and leaves to wooden twigs, than glue the twigs to the frame

if desired, add a stamped sentiment
I know I will be using this product suite for so many projects throughout the upcoming year.  You will love it too!  To order your Magnolia Lane suite, click on the images below or visit my online store.  
Did you know? There is a new feature in this catalog that I love!  An entire product suite can now be ordered with 1 item number, making ordering so fast!  But no worries, you may still choose to order ala carte, getting just your favorite items.  
Do you need a catalog? If you live in the US and don't have a Stampin' Up! demonstrator, I would love to be your demonstrator!  Contact me today, and I will get a catalog to you.
And before you go, it's not to late to join my 2019-2021 In Color Club or reserve a new Annual Catalog paper or ribbon share.  Details can be found here!
Thanks for stopping by!  
---